October 01, 2013
Guest Blogger: Luci's Morsels
Today's guest blogger is one of my favourite people I've met through blogging. Meet Luci from
Luci's Morsels
. She has an amazing blog full of amazing personal style, delicious recipes and really easy to follow DIY's and How To's. You must go check it out! She's actually just a beautiful person, inside and out. And recently engaged! Congratulations, Luci!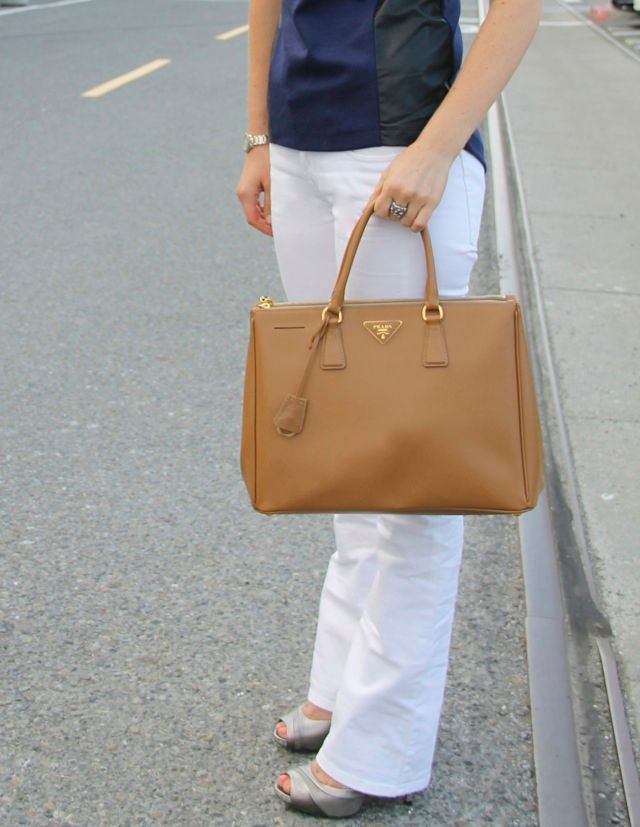 Halogen top / J. Crew denim / Nine West heels (similar) / Prada Handbag / gifted necklace and rings
Hi everyone! I'm so excited to be doing a post for Medge while she's on vacation. Medge and I have been chatting and repinning each other's Pinterest pins for months now. I even did a feature on her over on my blog,
Luci's Morsels
. Be sure to check out her fun answers
here
.
I'm not one to buy too many trendy pieces, but this colorblock, leather top just caught my eye and I knew I would love it. I'm embarrassed to admit how much I've worn it already, and fall is just barely underway. I love this top because it's suitable for professional and fun gatherings. I've worn it to work meetings, cocktail parties, and lunch with friends. And I love these darker colors paired with the bright white of these jeans and my necklace. I might need to change up the shoes for colder weather, but I'll be rocking this ensemble more than once in the coming months. Do you have any pieces like this is your wardrobe?